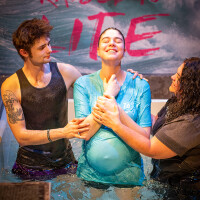 Share your decision to follow Jesus.
Jesus taught the practice of water baptism as a way for us to publicly declare our decision to trust and follow him. It's an outward expression of what God is doing in your life. If you've chosen to follow Jesus wholeheartedly and trust him for your eternal salvation, baptism is your next step.
In light of COVID guidelines, we cannot offer baptism right now. We are looking forward to celebrating this step of faith with you as soon as we can. Check back for more information or contact Pastor Brian Steele.