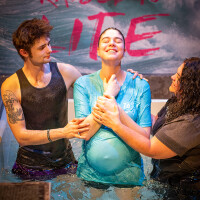 Share your decision to follow Jesus.
Jesus taught the practice of water baptism as a way for us to publicly declare our decision to trust and follow him. It's an outward expression of what God is doing in your life. If you've chosen to follow Jesus wholeheartedly and trust him for your eternal salvation, baptism is your next step.
Baptism Classes
On Sunday, July 4th we'll be baptizing in our 10 AM Sunday celebration. If you've decided to follow Jesus and would like to be included, be sure to join us online for baptism class on June 29. We look forward to hearing your story and explaining what baptism is all about. Classes are about an hour.
Online Class
Tuesday, June 29 • 7:00 PM
Join Zoom Meeting
Meeting ID: 939 4825 0205
Passcode: 105261
No need to sign up — just show up! For more information or contact Pastor Brian Steele.
Home Baptisms
Baptism isn't about the location, it's about your heart for Jesus.
If you can't make an in-person service, we'd love to show you how to do your own baptism at home (in a bathtub, spa, lake or even the ocean). You can record your baptism and send your video to us. We will post your video on our social media so others can celebrate with you.

Watch the video below to learn how to create your own and share it with us. (Please note: the video indicates that we'll be showing your video in a worship service but for our July 4th baptism, this is not the case. Your video will not be shared during our in person service, but through social media.)