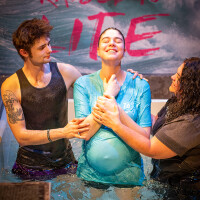 Share your decision to follow Jesus.
Jesus taught the practice of water baptism as a way for us to publicly declare our decision to trust and follow him. It's an outward expression of what God is doing in your life. If you've chosen to follow Jesus wholeheartedly and trust him for your eternal salvation, baptism is your next step.

Baptism Classes
We celebrate baptism with a special service several times a year! If you're ready to be baptized, your next step is joining a baptism class. In this 1-hour class, we'll explain what baptism is all about, and you'll have the opportunity to share your story. No need to register, just show up!
If you have a child in 1st-5th grade that would like to be baptized, contact the Children's Ministry.
Check out upcoming baptism classes & opportunities below: