Hello everyone, my name is Gaetano Sotille – my wife Sondra and I have been leading Italy for Christ for the past almost 40 years, and we are so proud to be partners with you and the church! We were so excited when Pastor Grant and his wonderful wife Laurel told us about the ambassador program, where we are just waiting for you guys to come and help us out!
We have so many churches throughout the country – one church in Sicily, led by Pastor Francesco Romeo has been multiplying and making an incredible impact in the city of Catania, Sicily because of your generosity. We are so looking forward to getting to know Brian and Tracy better and organizing all kinds of trips with them, because we really feel that our ministry is an extension of your church!
I believe we are at the dawn of a new missionary era – all of the changes and turmoil and crisis are bringing us to the point that together, we can really be the light and the salt of this earth. So we are so excited about this incredible program, and we're looking forward to see you here in Italy for a long time together with us.
We love you CTK – pray for us as we pray for you. God bless you!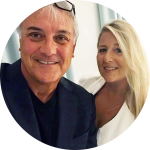 Gaetano & Sondra Sotille
Italy For Christ