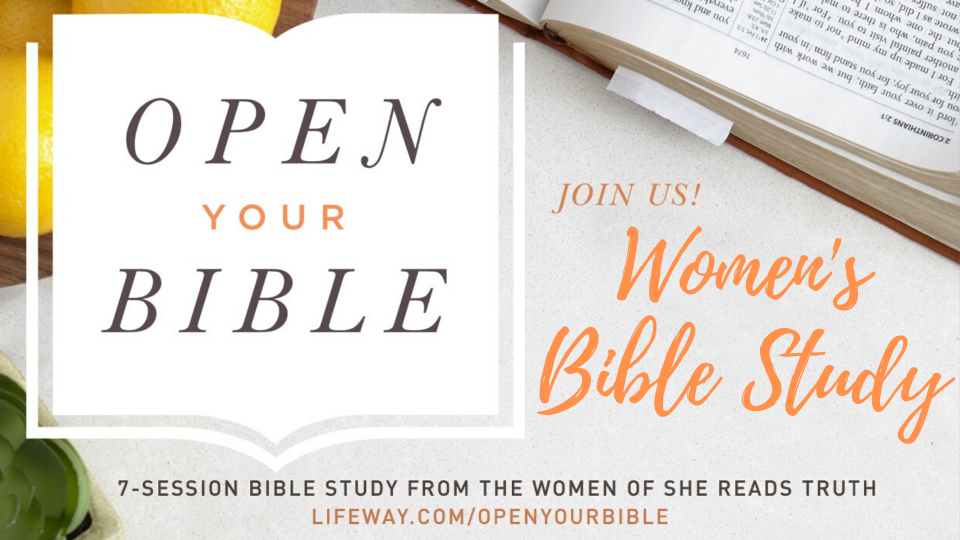 Monday, February 17, 2020, 6:30 PM - 8:00 PM
We are excited to anticipate gathering again on Monday nights. Our study will begin a little bit later than usual and go for 7 weeks. We will accommodate around any holidays that come up. We have done this study before and it will be the ground work for what our Monday nights will look like in the Fall! (I know that is a bit of a cliff hanger but, it is all very exciting and will have you digging into the word of God like never before.)

More info about the study:
We're all longing to hear from God, aching to know who He is and know His heart. The beautiful truth is this—we can encounter the living God today in the pages of His Word. The Bible is for you and for now. Whether you already open your Bible every day, have never read it before, or struggle to keep up with studying Scripture, Open Your Bible, a 7-session study from the women behind She Reads Truth, will leave you with a greater appreciation for the Word of God, a deeper understanding of its authority, and a stronger desire to truly know the Bible inside and out.

You will learn practical ways to read, study, and apply Scripture with confidence. Using Scripture itself, powerful storytelling, and real-life examples, Open Your Bible will quench a thirst you might not even know you have—one that can only be satisfied by God's Word.

You can buy your study book from Lifeway or Amazon and then, please register so we can plan accordingly. Thank you!