Last March, we asked you to sacrificially give to four missions projects. When we do a missions offering here at CTK, we promise you every dime that you give to a project will go specifically to that project, and it's your sacrificial generosity that makes all of this possible. Despite all of the challenges that 2020 and COVID threw at us, you fully funded every single one!
Missionary Vehicle – Immanuel Nassary
You helped purchase a vehicle for Emanuel Nassary, an African evangelist, who goes to unreached people groups of Kenya to share the good news of Jesus! Many of the places that Immanuel goes would take days to reach on foot. This vehicle is an incredible blessing to his ministry!
Housing – Thomas & Beatrice Omolo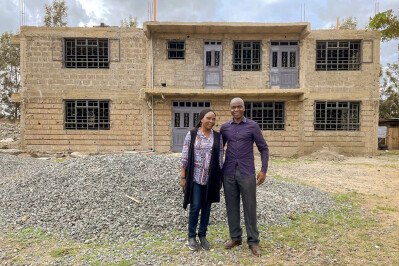 We found out that Thomas & Beatrice Omolo, were sleeping in a storage closet when they went to the Garden of Eden Children's Home, one of the orphanages that you help support. As the family of CTK you said "Nope, we can do better than that!" On top of what Thomas and Beatrice do at the Garden of Eden Children's Home, they also run two schools with over 600 students and pastor a church full time.
Teacher Housing – YWAM Arusha
You helped fund a teacher housing project so that one of our Tanzanian partners could continue to provide quality education. Previously, the teachers had no long-term place to stay! The new buildings, which occupy a total of over 10,000 square feet, provide much-needed family housing, kitchen space, and community meeting space. The buildings were named in memory of Bob Gist, who passed away last year. Bob was a dearly loved member of our church who gave his heart to Tanzania and our missions partners there.
Secret Project – Middle East
And on top of that, we asked you to fund a mystery project that because of security, we cannot even disclose its location – but once COVID clears the window, the money that you gave to that will be on its way to a strategic location in the Middle East to bless people in practical and tangible ways.
To those of you who have been so faithful, and so giving, we are so unbelievably appreciative. And to those of you who've given above and beyond, our gratitude knows no words. From all of our global partners, thank you.