Did you know?
Hannegan Seafood generously partners with the CTK Farm to not only provide the land and amenities, but also by donating fish to our Food Share program. When you shop at Hannegan Seafood, mention CTK Farm at checkout and they will match your purchase with a donation of fish!
FOOD SHARE
Our Food Share ministry gathers donations from CTK, local businesses and the CTK Farm and delivers them to the areas of greatest local need. It's all about pulling our resources together and creating community partnerships to help people in need throughout our neighborhoods, communities, and county.
This spring we're launching a new Food Share Prep Team! They will meet 1-2 times a month to wash, chop and bag vegetables for freezing and/or distribution. This helps local groups incorporate more healthy foods into their programs' meals. To sign up, email .
We also partner with the Foothills Food Bank in Kendall who serves 150-200 families a week. We have a team gathering to sort and pack items on Mondays and a team to take the donations up the mountain on Tuesdays. Also, during the harvest season out at the CTK Farm we get to distribute anywhere from 700–3,000 pounds of produce per week.
Here's what you can do to help right now:
Also, if you are a farmer or own a local food business and would like to partner with us, we would love to get your donations to those who need it most. Or if you'd like more information or have questions, contact Faith at ext 220 or .
FARM
At the CTK Farm, a team of faithful volunteers manages several acres of donated farmland and greenhouses to provide fresh produce for many local partnerships who serve needy people in Whatcom County.
The Farm is beginning to take shape as we begin to plant seeds and starts. Soon we'll be starting our weekly Monday work days. If you'd like to at the farm,or get more information about the farm please email John Williams.
The CTK Farm is located at the corner of Hemmi and Hannegan (6069 Hannegan Road). Look for the large greenhouse or brightly painted shipping container with our mural on it.
During the summer harvest season, we will be hosting small groups for Pick-n-Picnic. We are currently looking for farm hosts to help direct the small groups' work time. If you are interested in becoming a host please email .
Here's what you can do to help right now:
Consider joining a Pick-n-Picnic Host Team or
Community Field Trips
Consider volunteering at the farm
Check the Food Share and Farm wall in the CTK commons for current workdays at the farm
Pray for some dry weather and an amazing harvest season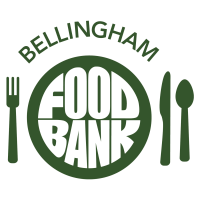 Bellingham Food Bank's
Satellite Distribution is here at Christ The King Community Church
Tuesdays from​ 5:30-6:30 pm
​If you need some additional groceries, please come! All you need to bring is a piece of mail showing you have a Bellingham address.